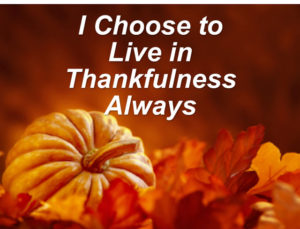 Have you given thought to where you actually live? I do not mean a geographical location, but the kind of consciousness you live in. Do you live in any kind of lack or limitation, fear, doubt or worry? Or, do you live in love, faith, joy, harmony, peace and thankfulness?
Ask yourself, "Where do I really live?" In other words, what is the dominate state of mind? If it is not in the Presence of God, there is a wonderful way to live there. It is Thankfulness. The following beautiful poem by Frank B. Whitney, says it all.
I LIVE IN THE LAND OF THANKFULNESS
I love the Land of Thankfulness
Where blessings overflow.
I claim it as my native home;
Most charming land I know;
And if I've need of anything,
No matter what it may be,
I just give thanks with confidence
And see it come to me.
I like to live in Thankfulness – – –
Would live there all my days;
Would let its spirit stir my soul
And fill my heart with praise.
I questioned once how I had found
A place of such a kind;
Knew I'd discovered it, because
I'd thankful thoughts in mind.
Oh, come with me to Thankfulness!
We ask this of you;
That you be always thankful, friend – – –
But this is all you do.
And if there's anything you need,
No longer doubt or fear;
The thing you seek is awaiting you,
It surely will appear.
Frank B. Whitney says it all. The best decision you can make is to live in Thankfulness all the time. Be thankful for everything, for what you have, had, expect and all the beautiful Presence of God within you. Being genuinely thankful is practicing the Presence. I am thankful for YOU! – Namaste! Rev. John
Then your light shall break forth like the dawn,
and your healing shall spring up quickly. – Isaiah 58:8
*          *          *
Positive Prayer
Thank you, God, for your loving, wise presence and power in my mind, body, life and affairs.  thank you, God, for everything!    
*          *          *
Golden Keys to Answered Prayers …
A truly powerful way to have answers to all of your prayers is to give thanks that they are answered NOW. When you pray, affirm that what you desire is now manifesting in your life. Then in confidence declare: Thank You, God, I am grateful! Declare this powerful statement often during the day and you will be amazed at the result.
Bytes of Wisdom …
Be thankful for what you have; you'll end up having more. If you concentrate on what you don't have, you will never, ever have enough. – Oprah Winfrey

God gave you a gift of 86,400 seconds today. Have you used one to say "thank you?" – William A. Ward

In everyone's life, at some time, our inner fire goes out. It is then burst into flame by an encounter with another human being. We should all be thankful for those people who rekindle the inner spirit. – Albert Schweitzer

The people who are successful are those who are grateful for everything they have. – Alan Cohen The person who has stopped being thankful has fallen asleep in life. – Robert L. Stevenson
In the Mail …
Giving up Old Ways Pays! – Thank you for teaching me to give up old ways of thinking and doing. Now, my life is moving forward in an amazing and good way. Recently, I met a wonderful man who gives me much love and laughter. I am healthier and my prosperity has improved nicely, too. I am enclosing a tithe check in support of your wonderful ministry. Thank you for being there! – Washington state
More Peace and Harmony! – Thank you for your loving and caring letter. I appreciate your help so much. My home life is much more peaceful and harmonious now. I am grateful for your continued prayer support. Enclosed is something to help sustain your work. It means very much to me. – New York
A Little Humor …
Church Signs . . .
Beat the Christmas rush, come to church this Sunday. Don't give up. Moses was once a basket case. Come early for a good back seat.