A Special Service of Golden Key Ministry-Unity
Spiritual food to nourish your Mind, Body & Soul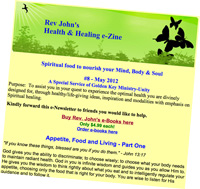 The Purpose of Rev. John's Health & Wealth Newsletter is to provide you with practical ideas, enlightenment, and real spiritual food for being radiantly healthy and to experience abundant prosperity.
Share the Power! Forward this e-Newsletter to your friends whom you would like to help prosper.
Subscribe to Health and Wealth e-Newsletter
Your Thoughts are Magnetic!
Rev. John's Health & Wealth e-Newsletter is part of Golden Key Ministry-Unity's dedication to help as many people as possible to be healthy, happy, prosperous, peaceful and free.
Refer back to any or all of the titles below. Enjoy! Kindly tell all your friends about this Website. They will thank you, and so will I. – Rev. John W. Adams