08/21/2015
Daily Inspiration and Affirmations to Help You Prosper
"Blessing pays. When a Unity minister would go into a restaurant, he would ask the waiters if they would like to increase their tips by at least 50%. If they said yes, he told them to silently and sincerely bless the people at each table they served. Some thought him a little weird, but others did as he suggested. He said he received numerous letters from them attesting to the power of blessing the people at the tables they served.
Blessing carries a powerful vibration because it is a highly energized spiritual activity. It is nothing less than love moving from heart to heart. Try lovingly blessing people you work with, the money you have, and everything and everybody, and see what happens. I believe you will be pleasantly surprised.
Today's Prospering Affirmation: I lovingly bless everything and everybody in my world."
Enjoy your increasing prosperity!
Return every day for a fresh, daily dose of "Prosper Now!"
Now You Can Have All of Our Daily "Pro$per Now" Inspirations & Affirmations in a Book!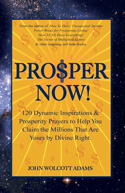 Pro$per Now! – The Book!
The Prosperity Inspirations and Prayers in the book, are the same ones you enjoy on this Daily Pro$per Now! webpage, with some variation, plus there are more of them all together in handy book form. You will want to keep copies of this book in convenient places for handy reference, and daily inspiration. This will help you travel the royal road to riches, enjoy the trip, and improve the quality of your life.
Click here for more details!
---
The "Peace Song" Lyrics
Let there be peace on Earth and let it begin with me.
Let there be peace on Earth, the peace that was meant to be.
With God as our Father, united all are we.
(Another version of this line: With God as creator, brothers all are we)
Let us walk with each other, in perfect harmony.
Let peace begin with me, let this be the moment now.
With every breath I take let this be my joyous vow.
To take each moment and live each moment, in peace eternally,
Let there be peace on earth, and let it begin with me.
NOTE:  Substitute the word "Love" in the place of "Peace" and turn this song into a beautiful relationship love song!