A Dynamic Life-Changing Book
by John Wolcott Adams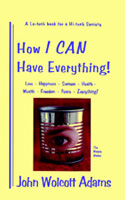 A lo-tech book for a hi-tech society! How I Can Have Everything!
What do you want?
Love, Happiness, Fulfillment, Health, Wealth, Peace, Freedom?
Are your dreams being fulfilled?
If your dreams were to come true, what would they be?
Yes, you CAN have everything your heart desires – and more!
You Can have it all! This delightful new, very empowering book reveals how.
Contents include:
"I Can" Power!
Real Estate Salesman Makes "Impossible" Sale!
It Can Happen to You!
I Can Do That!
The "Impossible" is Always Possible.
Expect Something Good . . . and much more!
A little book with a BIG message! You will love this book!
John Wolcott Adams, a Unity Minister and author of eleven books, has dedicated his life to helping people tap into the great reservoir of creative power within them, and to live happier, healthier, more loving and prosperous lives through his books and website.
Order Now! A personally signed copy of "How I Can Have Everything!"
Click on the "PayPal" button to order online. To order by mail.  Send your check or money order to the address below.
Golden Key Ministry-Unity – P O Box 30989, Phoenix, AZ  85046 USA
Buy "How I Can Have Everything!" with PayPal…
It's fast, FREE and secure!
Note: All prices are in US dollars.
Special website price: only $11.00 USA Only  For a limited time only $8.00
International price:
$27.00 USD