Golden Key Ministry - Unity
is a worldwide Prayer Ministry & The world's largest online provider of Spiritual Food to Nourish your soul and Improve your life.
The purpose of our ministry is To Love, Uplift, Inspire, and Richly Bless you and all people on Mother Earth.
THANK YOU for being here.
We are dedicated to giving you the BEST support for your Spiritual Growth & Enlightenment, Health & Well-Being, Peace & Prosperity.
NEED PRAYER?
We welcome prayer requests for all good desires. Write your prayer request to us and we will lovingly support you in positive prayer for 30 days. Click to share your prayer request with us.
CLICK & SCROLL for practical, life-enriching ideas from great Metaphysicians such as: Charles & Myrtle Fillmore, *Emmet Fox, Joseph Murphy, Cherie Larkin, Richard Dotts, Catherine Ponder, Ernest Holmes, Ralph Waldo Emerson, Louise Hay, John Wolcott Adams, Eric Butterworth.
We're here 24/7. Come back often and invite your friends to visit, too.
The Golden Key by Emmet Fox
A Free Gift for You — 
A practical guide to living a worry-free, peaceful life, The Golden Key opens the door to peace of mind, health, wealth, and happiness. Learn and turn The Golden Key, and be free!
How to Get The Golden Key
Plus, you will receive FREE, Rev. John's very helpful Golden Keyer's Guide!
What The Golden Key will do for you:
- Give you peace of mind
- Free you from unwanted difficulties
- Improve your health
- Harmonize your relationships
- Improve your prosperity
- Give you freedom and make your life wonderful!
The Golden Keyer's Guide is a wonderful aid in turning The Golden Key. It helps you create a new thought pattern that produces peace of mind, health, harmony, happiness, and prosperity.
Request Your Free Gift Now
Read The Golden Key several times.  Do exactly as it says, and if you are persistent, you will overcome any difficulty. Allow The Golden Key be the means of opening your door to health, freedom, peace, and knowing God. – Emmet Fox 
Please note:  Click the button below to order. Include your name and e-mail address and we'll add you to our newsletter list. We promise to NEVER share your information with anyone. Thank you. - Rev. John
Claim Your Free Copy of The Golden Key Now!
Available for Immediate Download
Please choose which version you wish to receive.
Want to learn more about The Golden Key before you order?
Click Here!
AliveAndHealthyNow.info
Click
for our distinctive spiritually based website that uniquely gives helpful healthy living information, inspiration, and guidance not found elsewhere on the web.
Now Available!
Replay of Rev. John on Unity Online Radio!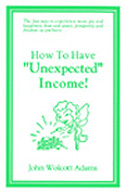 Rev. John was on the Truth Transforms with Rev. Gaylon McDowell show Wed. June 15, 2016 discussing his book, How to Have "Unexpected" Income!
Listen Now: http://www.unity.fm/program/TruthTransforms
Click here to purchase your copy of How to Have 'Unexpected' Income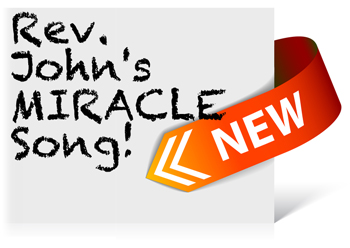 Rev. John's Miracle Song - An Inspirational Tune to Start off Your Day!
Written by Rev. John W. Adams. Performed by Sally Jo Bannow